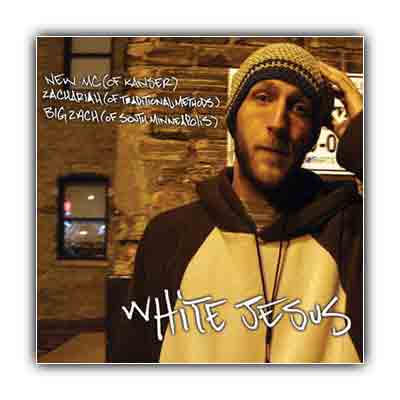 CD – Zachariah, White Jesus
Zachariah (aka New MC) is a longtime veteran of the Twin Cities hip-hop scene. In 1997, Zach, Unicus, Mesh, & DJ Elusive formed Kanser (with Ant from Atmosphere producing) and independently released their first cassette, "Now". Their second cassette-only release, "Network" was even more ambitious, which featured one produced cut by Ant (Mesh took over production duties at this point), and guest rappers such as Slug (of Atmosphere), Eyedea (of E&A), Oddjobs, Felix (of Heiruspecs), & Try-D, among others. Kanser released their first CD in 2000 entitled "Inner City Outer Space", and have continue to stay very active in Minnesota's booming hip-hop scene through present day.
The production here is excellent throughout, and really drives the album nicely. Big Jess (of Unknown Prophets), Ant (of Atmosphere), 84 Caprice, Greg Buck KAC, & Dillon Parker all make this album a very cohesive listen. The vibes are fun, soulful, and playful, which never borders on anything abstract; which keeps those heads nodding. I truly like the album all the way through, but my favorites are "Cool J Planets" featuring Desdamona, "Sub Shops" (produced by Ant), "White Jesus" (maybe the best cut here), and the Big Jess produced "Emo Rap", which is my personal favorite and the perfect closer.
While Zach is mostly a product of his local scene, that does not mean his vision of reality would not appeal others. The material here is top notch for a 10+ year veteran in the game. The love Zach has for the game is simply immeasurable – this is his true life on display.